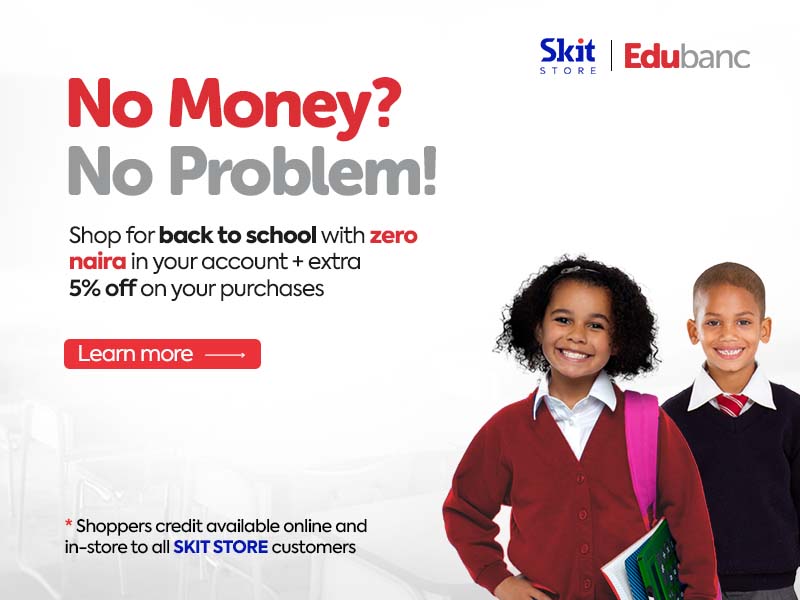 Sounds too good to be true, right?
Yes, you can shop with zero naira and that wasn't a typo! 
Parents have a lot of responsibilities, even more so when it comes to getting their kids ready for the new school year. The back-to-school season can be a very stressful, rigorous and frustrating period if it isn't planned properly. Most especially the wahala of moving from store to store hoping to find an important brand on your kid's school list. 
But not to worry because Skit Store and Edubanc have partnered to help ease the stress this season by providing you with a place to shop for everything you need on your list in one location, SHOPPERs CREDIT, and an extra 5% on all purchases!
Throughout this article, we will explain how you can utilize this offer, and a free back-to-school shopping list to download.
What do you stand to gain by reading?
Insights on the exclusive back-to-school offer you can't miss
The benefits that await when you shop at Skit Store
Stay with me, we are almost at the good part.
The economic situation in Nigeria is a major cause for concern as the price hike has affected all sectors. The price of fuel has gone up over 40%, food prices have tripled, and families are tightening their budgets. This partnership was started by parents for parents and to relieve them this back-to-school season because of this current reality  – 
The offer you didn't know you needed at your fingertips
Here's how to access it:
Visit skit.ng or any Skit Store to place your order and generate an invoice

Head to Edpay to apply for Shoppers credit, where we assess your eligibility and transfer funds instantly to SKIT for invoice settlement

Get 5% off your invoice at checkout.

Once Skit receives the payment, arrangements will be made for store pickup or delivery of your order.

To access Shopper Credit on Edpay – apply via www.edubanc.ng.

Select Edpay and click on SKLD.
At this point you must be elated at the expo I just revealed, right? Here's the best part!
Stay with me still, you would love this.
Ever heard of a retail store that cares too much about its customers?
Yep! That's Skit Store. It is that one-stop plug for everything office school and lifestyle.
It has stores seven (7) across Lagos, Abuja and Port Harcourt. and a website skit.ng where you can make online orders and have them delivered to your doorstep nationwide.

Skit store has a vast range of trendy back-to-school brands that leaves you spoilt for choice when shopping. These are key players when it comes to affordability in the international markets. I will be listing a few below;
Staples
Helix
Milan
Smiggles
Schneider
Crayola
Stanley
Pierre Cardin
Jansport
Primo
Additionally, you can also shop for lifestyle and office supplies with a variety of interesting brands at very affordable prices. Click here
I hope you had a good read?
Kindly send an email to chioma.chinweze@skld.ng if you have any questions or reach via phone call on 07048617428.
Do have an amazing shopping experience!