SKLD Integrated Services is a technology-enabled manufacturing and sourcing solutions company.
Established in 2000, we began as a single-source destination for back-to-school supplies in Lagos, Nigeria. Over two decades of unwavering commitment to delivering exceptional value, we have expanded our retail network into the largest in the country for all things back-to-school shopping. In addition to educational supplies, we now offer a comprehensive range of office and lifestyle products through multiple channels including contracts, wholesale, retail, and online.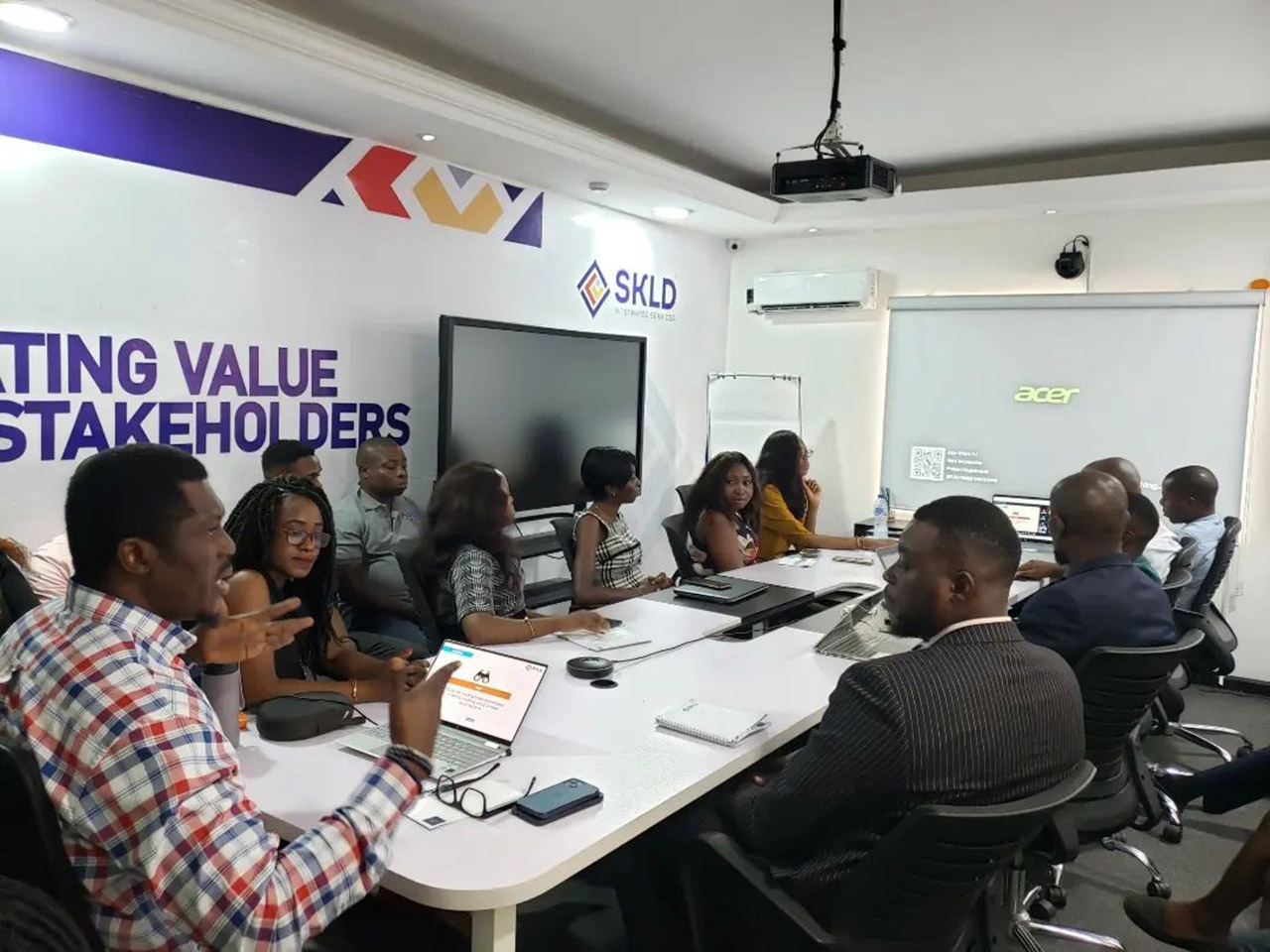 With the inclusion of office and lifestyle products, Skit Store has evolved into a one-stop-shop not only for parents but also professionals, college students, and anyone seeking a diverse selection of office supplies, gadgets, travel gear, fitness equipment, sleepwear, and personalized items.
Our retail brand, Skit Store, is widely recognized and boasts of seven brick-and-mortar locations in Nigeria's key cities of Lagos, Abuja, and Port Harcourt. Our e-commerce store, skit.ng, also serves a growing customer base of over 25,000 annually, shipping to over 20 cities across the country.
In addition, we have established solid partnerships with over 500 schools in Nigeria and surrounding areas to provide top-quality, generic and customized uniforms through our flagship uniform brand, Marcel Hughes Apparel.
As a fully integrated corporate entity, we are proud to offer a broad range of products and services that cater to the needs of both individuals and organizations.
Read More About Us
We work with the UN and other international humanitarian organizations (INGOs) such as UNICEF, IOM, UNFPA, UNESCO, Mercy Corps, Save the Children, Catholic Relief Services, Action against Hunger and others, as procurement partner (vendor) to deliver a wide range of humanitarian supplies including educational kits, wash and dignity kits, hygiene kits, office supplies, staple food items, shelter kits, water purification kits and other essential kits for their various intervention projects. We have over 5-year experience in delivering high-value and high quality purchase orders for multiple humanitarian organizations in Nigeria and internationally.
Lastly, we collaborate with education technology companies to bring relevant and strategic Edtech solutions to the Nigerian and West African markets. We leverage our wide access to consumers in the educational supplies market in Nigeria to facilitate distribution through traditional and digital means. We are open to strategic partnerships and collaborations that will deliver significant value to the markets we operate in and return good profits to investors and stakeholders.
We deliver other educational and office supplies to schools, corporates and retailers across the country, representing brands like CASIO (Calculators), Funskool (Educational Toys) Sharp (Interactive Boards). We are registered distributors for these brands and exploit multiple channels to push these brands in our target markets including organized retailers, wholesale distributors and corporate buyers.
The Marcel Hughes brand was launched in 2009 to compete as an international quality schoolwear brand synonymous with long standing UK and US schoolwear brands. Marcel Hughes is trusted by over 300 top schools in Nigeria.
We own and operate a mid-sized garment factory in Lagos, WeaveWorx, employing over 100 garment workers (over 50% women) and we have the capacity to produce as much as 10,000 garments per month. Items produced at our factory include school uniforms, medical scrubs, safety coveralls, security outfits and general workwear. Our garment factory was set up in 2019 with support of the Bank of Industry, Nigeria, through an asset financing loan. We manufacture a significant portion of our school uniform inventory locally at our garment production factory, while importing some raw materials from countries such as India, China and Turkey.
We started as a one-stop back-to-school retail business, serving parents and students in the city of Lagos, Nigeria.
Our Corporate Values
SKLD champions transparency in its end-to-end business process and provides periodic updates on our efforts to improve
1. Customer Satisfaction
Our commitment to excellence is a hallmark of SKLD Integrated Services and is demonstrated by our focus on customer satisfaction. We strive to set, deliver, and maintain the highest standards of quality and affordability in all our products and services.
2. Employee Engagement
We believe in empowering our employees to reach their full potential. To achieve this, we have implemented a clear structure of responsibility and accountability and offer ongoing training, coaching, and team-building opportunities. Our goal is to foster a shared sense of direction and create a supportive work environment that encourages personal and professional growth for all employees.
3. Partnership
We seek to establish strategic partnerships that are not only mutually beneficial but also promote growth and drive mutual success. This approach has been a cornerstone of our business philosophy, and has helped us achieve lasting, productive relationships with our suppliers.
4. Environmental Responsibility
Our dedication to environmental responsibility not only aligns with our values but also demonstrates our commitment to leaving a positive legacy for future generations. We take pride in continuously implementing environmentally friendly practices in our production and distribution processes and ensure our production and distribution methods are environmentally friendly.
5. Social Responsibility
At SKLD Integrated Services, we are dedicated to making a meaningful impact through giving back to the communities in which we operate. This is not only a part of our corporate ethos, but also an opportunity for us to help achieve the Sustainable Development Goals.
Our Business Units
SKLD delivers quality in every aspect of our business and clients love us for this.